ODT to DOC
Convert online and free ODT to DOC
Uploaded filetype:
Choose filetype:
Advert:
Convert your odt to doc files in only three small steps: Upload your file, choose your target filetype and click download.
How to convert odt to doc
The odt file format is used for word processing documents. odt is based on the XML markup language, which is widely recognized by software, making it easy to transfer files between different programmes and operating systems.
Free, open source word processors, such as OpenOffice and LibreOffice, often save files in odt format. Many people choose to use this open source software over proprietary Windows and Mac OS. This may be because they find it easier to use, because they prefer using one system across several operating systems, or because the software requires less memory to install and run. odt files tend to be smaller than an equivalent Word document saved in the doc format, saving disk space.
However, sometimes you will need to convert odt to doc. Often, a contact will specifically request files in Microsoft Word's doc format, because they do not have software that will open the odt filetype, or do not understand what an odt file is.
Fortunately, it's quick and easy to convert odt to doc files online through file-converter-online.com. Simply upload your odt document, select doc as the destination filetype, and download your doc file, ready to share with friends or colleagues. There's no need to register your details with file-converter-online.com, and there's no software to install on your computer. Simply visit the website whenever you need to convert odt to doc, as often as you like.
Guide: Convert ODT to DOC online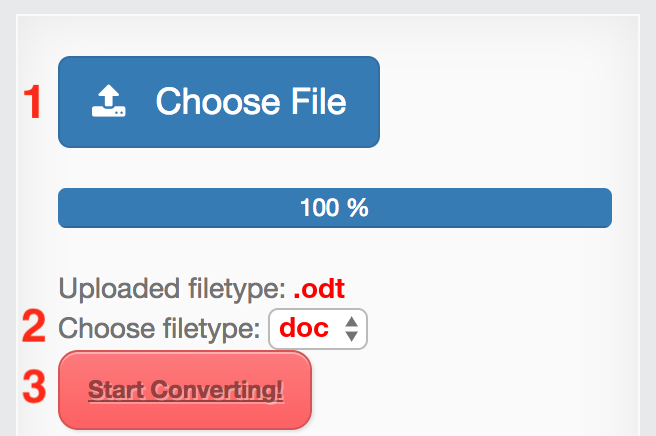 Choose input ODT file
Check target filetype and change if required (DOC)
Hit the "Start Converting!" Button
That's it! Your download will start automatically on the following page
Currently we support the following conversions with ODT files:
All Converters
Information about the extensions for the conversion from ODT to DOC
From: ODT
An odt file is a word processor document saved in the Open Document format. Open Document files are designed to be opened, shared, and edited on different operating systems, including Windows, Mac, and Linux. They will work with a large number of com …
File extension:
.odt
More information and converters for ODT
To: DOC
Historically, DOC was a proprietary document file format used by Microsoft Word, the word processor program included with Microsoft Office. Indeed, it was the default file format used by Microsoft Word 97-2003. A DOC file can contain formatted text, …
File extension:
.doc
More information and converters for DOC
Video-Tutorial: ODT to DOC
File-Converter-Online.com is a service for converting files online from one type to another. We take care of your privacy and take care of your files. As a part of this, there's no registration required on file-converter-online.com. As we're offering our service in a browser, it does'nt matter whether you use Windows, Apple OS X or Linux. Your conversion results will always be at the same, very high quality and of course, without watermarks.